The Effects of Liberalization Privatization and Globalization on India's Economy
July 14, 2022 0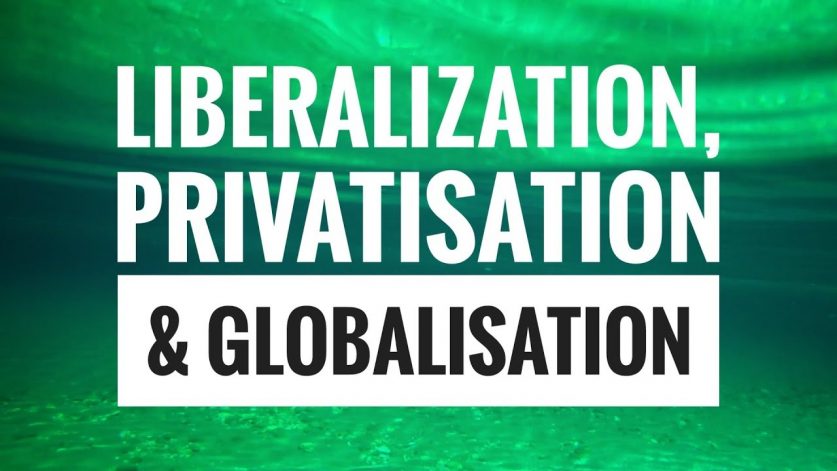 Liberalization privatization and globalization (LPG) of the Indian economy was driven by two factors: the great famine of 1876–1878 and World War II; both of which led to India's tryst with destiny in 1947, which ended the British Raj in India and the Indian independence movement. In 1991, India started moving towards a free-market economy, leading to increased foreign investment, greater participation of foreign companies in Indian markets, and increased economic growth rates. However, there are major disparities among different social groups, income classes, and geographic regions that have persisted throughout India's history since independence.
What Liberalization means?

The economic liberalization in India refers to the ongoing economic reforms that started in 1991 with the goal of making the economy more market and service-oriented and less state-controlled. Since then, the Indian government has eased restrictions on foreign trade and investment, privatized some state-owned companies, and opened up several sectors to private and foreign companies. These reforms have had a positive impact on India's economy, with GDP growth averaging around 7% per year since 1991.
What Privatization means?

Privatization is the transfer of ownership of a business, enterprise, agency, public service, or property from the public sector (a government) to the private sector (a business person or group). The main reasons for privatization are to reduce government involvement in the economy and to raise funds for the government by selling state-owned assets. The effects of privatization can be positive or negative depending on how it is implemented. In many cases, privatization leads to increased efficiency and profitability in the privatized sector, as well as increased competition. However, it can also lead to higher prices for consumers, job losses in the public sector, and corruption.
What Globalization means?

globalization refers to the spread of products, ideas, and information across the world. It is often thought of as a process that makes things more homogeneous, but it can also lead to the rise of new local cultures. In terms of business, globalization refers to the increasing trend of businesses operating in multiple countries. This can be done through exporting goods and services, or setting up branch offices or subsidiaries in foreign countries. The globalization of business has led to increased competition, as well as opportunities for companies to expand their operations.
How it affected these sectors in India?

LPG in economics refers to the liberalization privatization and globalization of the Indian economy. These three factors have had a profound effect on the economic sectors of India. The liberalization of the economy has led to an increase in foreign investment and trade. The privatization of state-owned enterprises has led to an increase in efficiency and productivity. And finally, globalization has brought about a change in the way business is conducted in India.
How it affected the poor people in India?

While the effects of liberalization privatization and globalization have been positive for India's economy as a whole, they have not been equally positive for all Indians. In particular, the poor have often been left behind. While some people have benefited from the increased opportunities and competition that come with these economic reforms, others have not. The poor have often been the ones who have lost their jobs as a result of privatization, or who have not had the skills or education to take advantage of the new opportunities that have arisen. As a result, inequality has increased in India over the past few decades. While the economy has grown overall, the gap between rich and poor has also grown.
Analysis about how it affected social aspect.

The economic liberalization in India refers to the ongoing economic reforms process in India that started in 1991. The process of globalization has been unleashed by a series of major reforms in the country. These reforms have facilitated greater competition, both domestic and international, in almost all sectors of the economy. They have also led to increased privatization of many public sector units and. An overall reduction in the role of the state in the economy. The result has been increased economic growth and development, as well as improved social indicators such as poverty reduction. While there have been some negative effects of these reforms, such as increased inequality and environmental degradation. Overall they have been positive for the economy and society.
My opinion about this topic.

I believe that the liberalization privatization and globalization of India's economy has had a positive effect on the country overall. These policies have helped to increase foreign investment, spur economic growth, and create jobs. They've also helped to reduce poverty and improve living standards. While there have been some negative effects as well, such as increased inequality and environmental degradation. I believe that the positives outweigh the negatives.